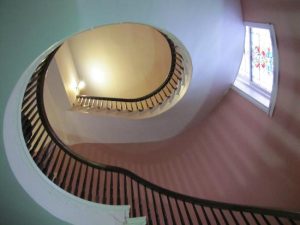 Come and experience one of Kentucky's most beautiful old time settings at the Rosemark Haven Plantation Bed & Breakfast. Surely, this is what Stephen Foster was singing about with his song "Old Kentucky Home." Let Rosemark Haven be your "Old Kentucky Home" which you return to time and again!
This beautiful Bed & Breakfast features 7 elegantly restored and decorated rooms with modern amenities, perfect for a honeymoon, anniversary or just a romantic get-a-way! It also makes a great location for family reunions and small business conventions with a large meeting room available.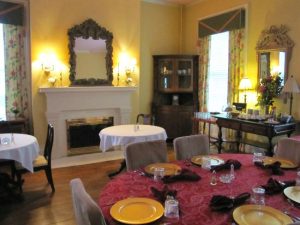 Rosemark Haven is conveniently located in Bardstown, Kentucky in the heart of Bourbon Country. It is close to all of the activities in town, yet slightly off the beaten path for a more secluded atmosphere.
The elegant spiral staircase (pictured) leads past the stain glass window to a large sitting room for guests to enjoy. There is also a rooftop overlook which affords a beautiful view of the plantation.
You must also visit the restaurant with a beautiful classic dining room, perfect for special occasions, whether or not you are staying. The Italian cuisine is excellent! For more casual dining, enjoy our café and wine bar which is located in the renovated tobacco barn. Sandwiches, salads, soups and delicious desserts are all available. Space is available for private events by reservation.